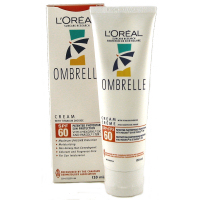 The Ombrelle line of sunscreens was introduced to Canada in 1990 with the assistance of Canadian dermatologists. Ombrelle's products are recognized by the Canadian Dermatology Association (CDA) and is the brand most recommended by healthcare professionals. It was the first brand to recognize the necessity of protection not only against UVB rays, but UVA rays as well.
The key ingredients in Ombrelle sunscreens include Mexoryl SX, Mexoryl XL, titanium dioxide and avobenzone (Parsol 1789). Ombrelle sunscreens are photostable and offer broad spectrum protection; the results of ongoing suncare research.
The absorption range of the UV spectrum is specific to each active ingredient. In order to get broad spectrum protection against UVA and UVB rays, Ombrelle sunscreens contain a combination of active ingredients that complement one another. The term "photostable" indicates that a sunscreen's protection system includes active ingredients that don't loose their  effectiveness under sunlight. With a patented filter system, Ombrelle products offer a photostable protection which maintains its effectiveness during sun exposure.
Ombrelle offers a range of products to suit individual needs. Some of the best selling products in the Ombrelle line are:
Ombrelle Cream SPF 60
Ombrelle Face Stick SPF 60 and Ombrelle Face Cream SPF 60 – with Mexoryl XL
Ombrelle XL Milk (Lait) SPF 60 – New with Mexoryl XL
Ombrelle Kids Lotion SPF 30, and SPF 45.