Sale!
Gynalac Vaginal Gel (35 ml/1.18 oz)
Gynalac Vaginal Gel is formulated with lactic acid and sodium hyaluronate and helps to relieve symptoms & prevent recurrences of Bacterial Vaginosis.
Only 1 left in stock
Description
Gynalac Vaginal Gel (35 ml/1.18 oz) is a clinically proven double-acting gel that contains a unique formulation of lactic acid and sodium hyaluronate, both of which are naturally produced by your own vagina. These two natural ingredients are delivered directly to your vagina where they can restore the natural flora and help protect against odor.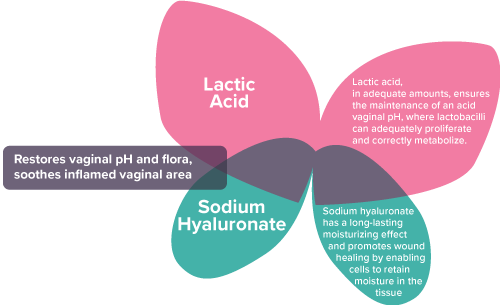 Lactic acid is naturally produced by friendly bacteria (Lactobacillus) in your vagina and is the cornerstone in the normal maintenance of the vaginal ecosystem by contributing to the reestablishment of the natural vaginal flora. Presence in adequate amounts ensures the maintenance of an acidic vaginal pH, where Lactobacilli (friendly bacteria) can adequately proliferate and correctly metabolize. Clinical evidence shows that a treatment course of lactic acid helps to relieve and prevent symptoms of BV, thereby bringing a natural protection against intimate irritation.
Sodium hyaluronate is a type of compound that is also naturally produced by your body. It can take up to 1,000 times its weight in moisture and performs many functions in the body. Sodium hyaluronate has a long lasting moisturizing effect and promotes wound healing by enabling cells to retain moisture in the tissue.
Benefits of Gynalac Vaginal Gel:
Relieves Bacterial Vaginosis symptoms
Prevents recurrences of Bacterial Vaginosis
Relieves abnormal vaginal discharge and odor
Provides immediate relief of itching, dryness & burning

Restores vaginal flora via vaginal acidification to its normal physiological pH level, leading to:

Reduction in pathogenic (unfriendly) bacteria

Increase of endogenous protective (friendly) Lactobacilli forming an important natural defense to infections

Is clinically proven to be as effective at relieving abnormal vaginal discharge and odor as a course of antibiotics (metronizadole)

Offers synergistic efficacy when combined with antibiotics (metronidazole)
Gynalac is a convenient non-greasy vaginal gel that:
Absorbs quickly
Does not leak
Does not stain clothing
Directions:
It is inserted into the vagina using the enclosed applicator, which is filled with 3 ml of vaginal gel (see "Notes on Use").
Notes on Use:
Using the applicator is similar to inserting a tampon.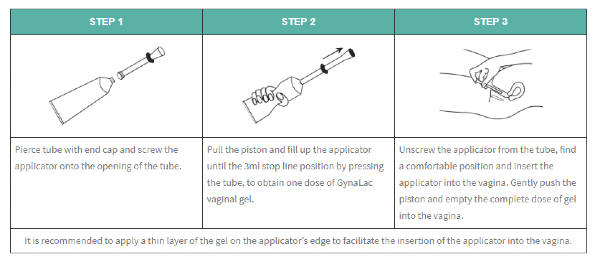 Ingredients:
Medicinal Ingredients: 225 mg of Lactic Acid (DL-lactic acid) and 5 mg of Sodium Hyaluronate/application.
Non-Medicinal Ingredients: Aqua/Water/Eau, Butylene Glycol, Glycogen, Hydroxyethylcellulose, Linum Usitatissium (Linseed) Seed Extract, Potassium Sorbate, Rubus Coreanus Fruit Extract, Sodium Lactate, Sodium Levulinate, Tocopherol (Vitamin E).