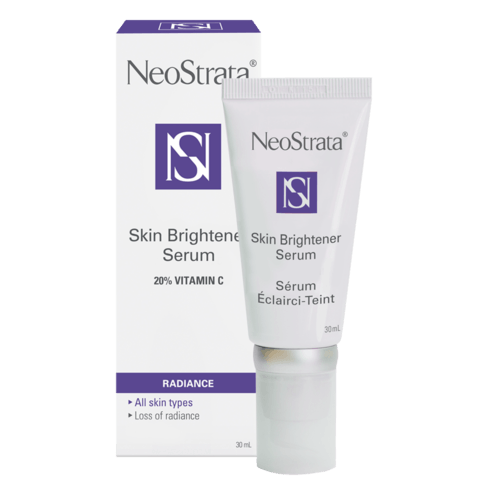 Neostrata Skin Brightener  with 20% Vitamin C is a workhorse skin care ingredient and because of this, one of my absolute favorite skin care products. When formulated to maintain its stability, studies have shown that topical application of Vitamin C (L-ascorbic acid) has considerable benefits on skin including:
Protection against free radical damage associated with sun exposure (UV damage) via its potent antioxidant action
Strengthening the skin's barrier thereby reducing moisture loss
Reduction in hyperpigmentation at concentrations of 5%+
Promoting collagen production which leads to thickening of skin
An anti-inflammatory effect
In addition, Vitamin C tends to be very tolerated unlike many other active skin care ingredients so most skin types can benefit from its use.
That's why I love Neostrata Skin Brightener. It contains a whopping 20% of  Vitamin C, one of the highest concentrations available anywhere. This lightweight silky treatment penetrates skin to both inhibit and target discolorations, restoring radiance. It also promotes collagen production leading to an increase in skin thickness. And its unique silicone base system allows the Vitamin C to maintain stability. The result:
More uniform skin tone
More radiant complexion
More polished skin texture.
In clinical studies Neostrata Skin Brightener is proven to:
Even out skin tone
Target and inhibit discolorations
Restore a youthful glow
Reveal a flawless complexion
In a three month tolerance and efficacy study conducted in an independent laboratory, individuals using Neostrata Skin Brightener experienced an 88% improvement in the uniformity of skin tone.
Neostrata Skin Brightener takes anti-aging skin care beyond wrinkle correction. It is clinically proven to address skin dullness, uneven pigmentation spots on which can add an average of 10 to 15 years to a woman's age. The treatment may be used for face, neck and décolleté.
A strong contender for your anti-aging skin care regimen.