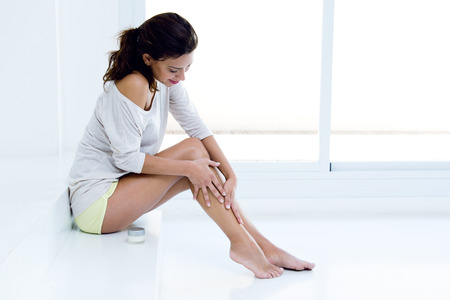 As temperatures drop and the wind whips up, heaters crank on, leading to dry skin that many of us have to contend with. Dry air/low humidity is one of the most common causes of skin dryness. It occurs when the water content of skin declines and lipids are depleted resulting in irritated, itchy and flaky dry skin.
Aside from feeling uncomfortable (and perhaps being less than aesthetically pleasing), when dry skin becomes severe, it can crack, making a perfect entryway for germs, thereby increasing the risk of infection. You've probably noticed that your skin tends to be drier in winter and may find that despite slathering on the moisturizer, there's little relief to be had.
In addition to low humidity, lipid depletion may be exacerbated by harsh soaps, itchy clothing and long, hot showers or baths. Some drugs, such as diuretics or topical and systemic retinoids, may also temporarily cause dry skin. Generally, the dryness resolves once treatment is stopped. Xerosis, another term for severely dry skin, often worsens in the winter, resulting in decreased amounts of water in the skin's uppermost layer.
Don't despair! We've got 6 tips to help manage dry skin from head to toe:
1. For dry scalp:
A dry scalp can be worsened with certain medicated shampoos which may strip your hair and scalp of their natural oils, leading to dryness and flaking. Massaging oils like olive oil and coconut oil can help. Warm oil treatments – leaving the oil on the scalp for a few minutes or overnight then shampooing with a gentle, moisturizing shampoo like Cliniderm Soothing Scalp Shampoo – may also be beneficial.
2. For the face, the overriding rule is to be gentle:
Wash with warm (not hot) water.
Avoid drying cleansers, abrasive scrubs and overdoing it with cleansing devices. Too much of this can strip away skin's natural oils, leaving dryness behind.
Apply a good moisturizer when face is damp to lock moisture in.
We're partial to Apothekari Daily Infusion Moisturizer for restoring the skin's moisture content – it's suitable for all skin types and won't interfere with your other skin care treatments.  For you multitaskers, Anthelios KA SPF 50+ is a daily protective moisturizer that offers long-lasting moisture and broad spectrum SPF 50+ protection in a comfortable and non-greasy emulsion. Finally, Cliniderm Soothing Cream and Cliniderm Soothing Lotion are both irritant-free and a boon for all those with sensitive skin. View our full range of moisturizers here.
3. For the body:
Once out of the warm shower or bath, pat skin dry (avoid rubbing) and massage moisturizer all over while skin is slightly damp. If you're planning on wearing tights or skinny jeans, let the lotion absorb for five to 10 minutes before dressing. Repeat at night, just before bed. For rough areas, such as knees and elbows that need extra TLC, treat them with a heavy balm with soothing ingredients to help reduce itch and irritation and create a protective barrier. We love Impruv Barrier Cream, which features ceramides and is suitable for the whole family. For an extra bit of pampering, try Apothekari Shea Body Butter. Made with organic shea butter and infused with healing herbs, fresh oils, natural vegetarian waxes, it contains an intoxicating blend of essential oils to heal dry, cracked and callused skin.
4. For the hands:
Keeping a hydrating hand cream and cuticle oil in your desk drawer (and in the car, in your purse, by the sink – you get the picture) is key to maintaining soft hands and healthy nails. Again, look for soothing, moisture-retaining ingredients such as shea butter and urea to keep skin supple and soft. Try Ureaka Hand Cream, which contains elements similar to those naturally found in healthy skin.
5. For the feet:
If your feet feel irritated and show signs of disrepair (such as cracked heels), you'll need specialized care: try Eucerin Repair Foot Cream formulated with 10% urea or Flexitol Heel Magic with its convenient stick application to intensively moisturize and soothe dry feet and cracked heels.
6. Beauty from within:
One of the must-have foods for healthy skin? Omega-3 fatty acids. These are the "good fats" that are credited with increasing heart health as well as helping your skin look healthier. Foods high in omega-3 fatty acids include seafood (especially tuna and salmon), walnuts and ground flax seed. These fatty acids are responsible for the health of the cell membrane, which not only acts as a barrier to things that are harmful but also as the passageway for nutrients to cross in and out of the cell. Since the membrane is what influences the cell's ability to hold water, having a healthy skin barrier yields softer, supple and more wrinkle-free skin.
Be consistent and you'll be rewarded with well-hydrated and silky skin,  just in time for spring. Which, according to Punxsutawney Phil, is still a good 6 weeks away…