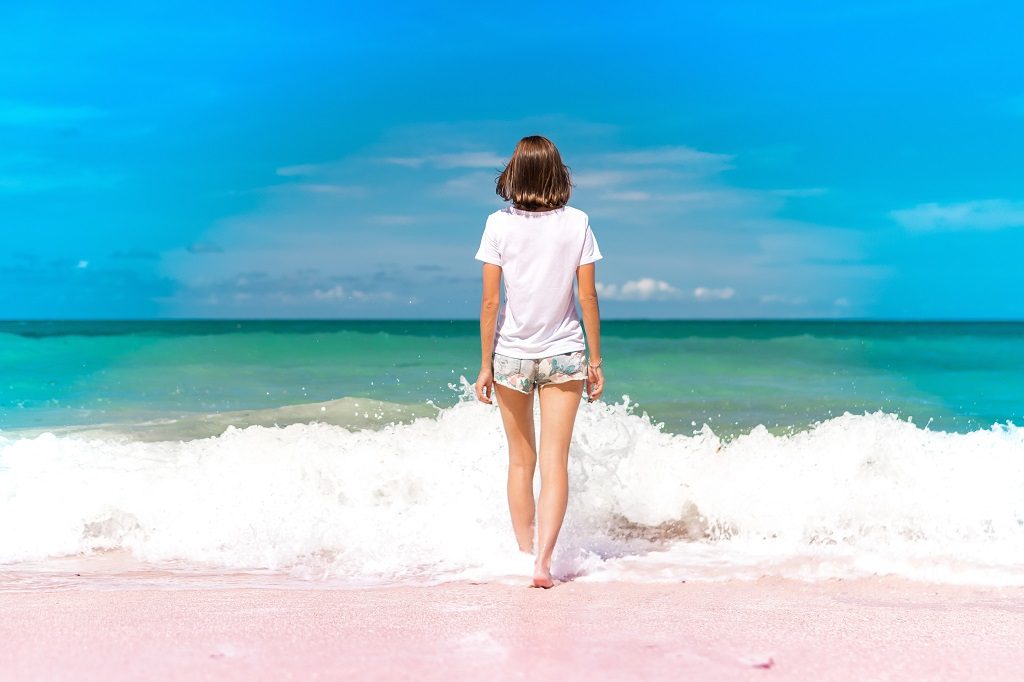 While not officially summer for another month, Memorial Day weekend typically marks the beginning of the vacation season, when our minds turn to beach holidays, barbeques and, yes, choosing the perfect sunscreen.
How to Choose the Perfect Sunscreen
Customers call us every day, looking for the perfect sunscreen. First, we help narrow down the selection by asking them what they want out of their sun protection product. By refining the requirements, we can better guide our customers to a sunscreen they will love wearing every day.
Beyond looking for exceptional sun filters, we've found that three features come up time and time again:
Weightless Feel and Invisible Finish. For those who wear sunscreen day in, day out, regardless of the weather, choosing a sun protection product that is comfortable to wear and cosmetically appealing are must-haves. Skin type, skin tone and even make-up use all factor in to making that crucial decision. The more you love it, the more you'll wear it. If we can help guide you to that, our job is basically done!
Water Resistance. Nothing says summer like a day at the beach, and when there's water involved, a water-resistant sunscreen is essential. Not all sunscreens are made to withstand time in the ocean or pool so it's important to read the label. Here's another thing to keep in mind: if you're travelling to Hawaii, you may want to think twice about using a sunscreen which contains oxybenzone and/or octinoxinate, both of which have been found to harm the coral reefs. The Aloha state recently banned those particular sunscreen ingredients in the hopes of preserving the delicate marine ecosystem. PhaMix carries a wide selection of sunscreens that are water-resistant (40 minutes) or very water-resistant (80 minutes) and use newer-generation sun filters to protect against both UVA and UVB rays.
Value. While it's tempting to try and make one bottle of sunscreen stretch the whole of summer, that task is impossible if we're using the recommended amounts for adequate protection. The general rule of thumb is one full ounce for the body and half a teaspoon for just the face. Like most of you, we don't mind a bit more of an investment when it comes to a cosmetically pleasing facial sunscreen that we'll be wearing every day, but when it comes to the arms and legs, we like to go for value, and that usually means the bigger, the better.
Key Ingredients You'll Want to Have
Mexoryl:  Patented by l'Oreal and found only in sunscreens under the l'Oreal family of companies, Mexoryl SX and Mexoryl XL (often listed as ecamsule and drometriziole trisiloxane respectively) are photostable sun filters that provide broad spectrum protection while having little to no absorption through the skin. Studies have shown that Mexoryl sunscreens maintain a majority of their sun filtering capability even 24 hours after the initial application. Both Anthelios and Ombrelle sunscreens use Mexoryl technology and have been customer favorites for years.
Tinosorb: One of the newer generation sun filters, Tinosorb is photostable, is not associated with skin irritation, and protects against both UVA and UVB rays. If that weren't enough, it also helps to stabilize other effective sun filters such as avobenzone. We love having another layer of protection against sun damage. Tinosorb S is available in many Anthelios sunscreens while Tinosorb M can be found in formulations by Avene, a new line we've recently introduced to our store.
Zinc Oxide: Anyone remember how lifeguards would invariably have their noses covered in a thick, white film to protect from sunburn? Thankfully, technology has come a long way! Zinc oxide is now available in a transparent, non-whitening form that can be used in all-natural sunscreens that deliver UVA and UVB protection while maintaining an invisible finish AND lessening chemical load. And here's a bit of information you may not be aware of: zinc oxide is also promotes healing, reduces inflammation and soothes the skin.
Our Top Picks 5 Picks
Need help choosing the perfect sunscreen? Here are our top picks for this season:
Apothekari Shade SPF 30: All-natural and formulated with 13.5% zinc oxide, this daily wear sunscreen has become a favorite for its non-whitening and matte finish. We've upped the game by adding in red algae extract (for UV absorption) and ergothioneine, a natural antioxidant to prevent UV damage. Your search for a fragrance-free, lightweight, non-greasy, non-heavy natural sunscreen is over!
Anthelios SPF 50+ Shaka Fluide: The newest offering from Anthelios is a newly reformulated daily facial sunscreen that replaces the much-loved Ultralight Fluide (aka Fluide Extreme). Lighter in texture and quicker to absorb, the Shaka Fluide achieved the highest UVA protection in Anthelios' history. Containing Tinosorb S, Mexoryl SX and Mexoryl XL, we love the new Shaka Fluide for its incredibly lightweight feel and soft, matte finish.
Anthelios SPF 50+ Dermo Pediatric Spray Lotion: We consider this to be our desert island sunscreen: good for the face because of the velvety, dry finish and also for the body because of the easy application and quick absorption. Although marketed for children's sensitive skin, this spray lotion is good for the whole family. And honestly, we've never had a complaint yet from either adult or child when we've taken it on holiday with us. Contains both Tinosorb S and Mexoryl.
Anthelios SPF 50+ Dermo Pediatric Lait: Available in a larger 8.45oz tube that marries value, water resistance and excellent protection as well as a carry-on friendly size of 3.4 oz. Tinosorb S, Mexoryl XL and Mexoryl SX in the formula means you know you're getting broad spectrum protection against aging and burning rays.
Ombrelle SPF50 Kids Lotion: Ounce per ounce, this is the one that we bring with us for beachy vacations when we know we'll be slathering on sunscreen with wild abandon. Water resistance, value and Mexoryl technology along with titanium dioxide and avobenzone for effective and sunstained UVA/UVB protection.
And because we can't stop at just 5, we're also loving the newest Anthelios sunscreen to join the family: XL SPF 60 Dry Touch Gel Cream!  Mattifying, anti-shine and perfect for every day!